Perennials are classic beauties that can be used to add grace and dependability to your garden. These re-blooming plants come in a variety of styles, colors, and functions to compliment just about any gardener's preference. They make great companion plants, bring color to shaded areas, and can be used to soften ornamental grasses. Most perennials bloom in Spring, Late Spring, and Fall, however, blooming times may vary according to your seasonal conditions. Some of the most common perennials include Trilliums, Coneflowers, Lily of the Valley, Cohosh, Buttercups, and Larkspur.
These ethereal woodland plants have three distinct leaves that give them their unique character. The sessile trillium is characterized by three leaves and a flower that sits on top, while the pedicellate has three blades with the bulb attached by a stem. These delightful plants are relatively easy to grow in light shade and compost soil. They bloom 6-8 weeks in late winter or early spring and make great companions spring flowers or flowers that continue to grow once they are out of season. There are over 10,000 species of trillium in production, with a particular focus on the lesser-known species.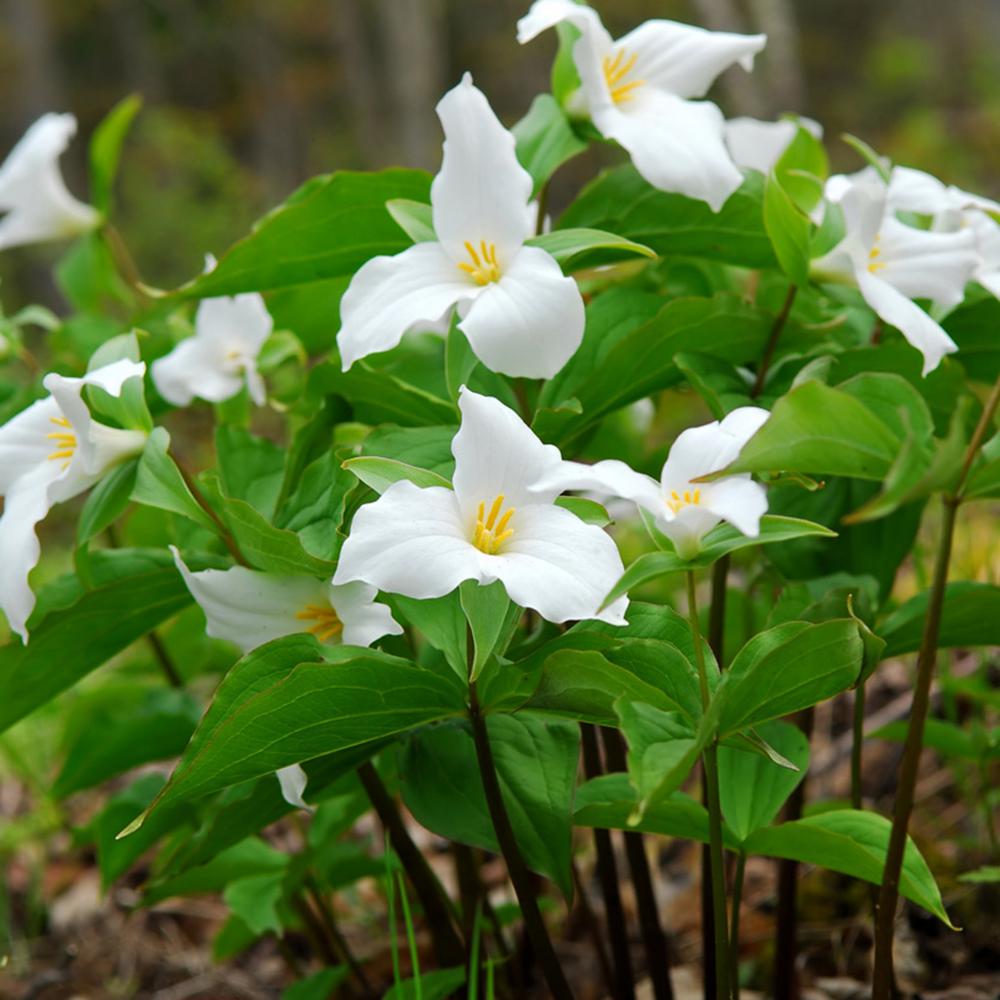 Coneflowers
This low-maintenance plant resembles the daisy flower with a raised center. These long-flowering plants are a magnet for butterflies and songbirds and adore full to light shade and well-drained soil.
Lily of the Valley
This aggressive plant features medium green stalks with sound, sweet-smelling, dainty white bells hanging down. It grows in cushioned mounds or clumps and is excellent for use as an aggressive ground cover or container plant. For best results, plant in part shade.
This deep-brown to almost black, the hardy woodland plant is said to resemble a fern with its three separate stems and leaves that unfurl into large, three-lobed, double serrated sharp features. Mature cohosh plants sprout stalks with dozens of white flowers on them for a beautiful contrast. This plant thrives best in part shade and compost, deciduous soil.
Buttercups
This plant features a set of round-shaped leaves with another set of stalks leaves alternately placed throughout. It has erect branches with bright, yellow cupped flowers that are slightly shorter than the leaves. It makes a right meadow plant and grows best in moist fields. It is said to be poisonous, so do not consume.
Larkspur
This beautiful plant features towers of light and dark blue larkspur that blooms pink, white, purple, or blue spikes of flowers in the spring and summer. This easy-to-grow plant looks best in patches and prefers fertile, well-drained soil, ample water, and sun to part sun.