Everyone loves a beautiful yard and garden, but not everyone has a lot of time tending them. Turn to low or no-maintenance native plants for the answer. Here are five plants you can plant and pretty much forget once they are established.
Virginia Bluebells
The scientific name for Virginia Bluebells is Mertensia virginica, and it's a wildflower native to Missouri. It grows in the river floodplains in the rich earth of wooded areas. These perennials bloom in early Spring and rise between 1 and 2 inches high. As the name implies, the blooms are trumpet shaped. The buds are pink, but the trumpets are blue, ranging from a grayish green/blue to a brighter blue/green. The tightly clustered bells attract bees and butterflies in droves, so if you love butterflies or want to support bees, Virginia Bluebells are ideal.
Reproducing their native habitat as closely as you can, helps Virginia Bluebells to get a great start. Plant them in early Spring between one and three inches down with a foot to a foot and a half between them. They like rich earth and some organic fertilizer. They prefer full to partial shade and work great under a tree. Water regularly while establishing themselves and growing, but don't drown them. After the first season, however, they need little from you.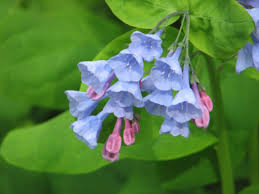 Cinnamon Fern
Cinnamon Fern or osmunda cinnamomea grow to about a meter or so tall, so find a place at the back of your garden, and the beautiful multi-textured color will provide a background to other plants and flowers. It's native to the Eastern United States and Canada and in the wild Cinnamon Ferns, like wet areas near ponds and rivers. Although it prefers shade and moist, rich soil, this plant is highly adaptable. After planting it, keep the soil wet while it establishes, watering once per week. These long-lived plants establish very quickly. They spread slowly, and eventually; you could dig some up to divide the plants if you want to.
The name Cinnamon comes from the color a cinnamon-brown. The fibers near the base turn shortly after planting. The plants bear spore-bearing fronds in early Spring, and they shed the spores late in the Summer, and the fertile fronds die back. After that, fuzzy fiddleheads appear, growing into arched green fronds up to four feet long. The graceful green arches last all Summer and die back to a yellow color in the Fall.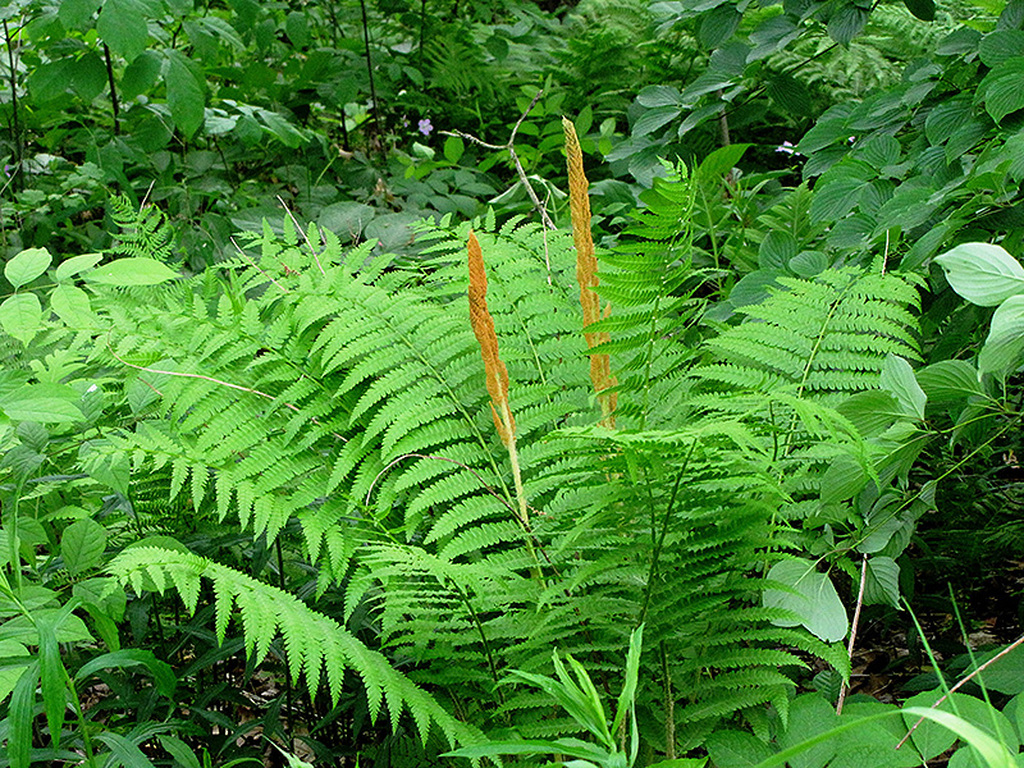 Christmas Ferns
Christmas fern gets its name because it's one of the few plants still green at Christmas time, and that makes them ideal for Fall or Winter gardens. The Christmas fern or Polystichum acrostichoides are perennials native to the eastern United States and grow in the woodlands, along streams, and even on rocky slopes. They enjoy moist but well-drained soil rich in organic matter. They prefer part to full shade but are incredibly adaptable to almost any condition.
Plant your ferns in early Springtime, after the last frost. They should be about 18 inches apart and topped off with a few inches of leaf mulch, pine needles, or even shredded tree bark. Once they sprout, care is easy because the mulch holds the moisture it needs, and Christmas ferns aren't prone to disease. They'll grow dark green fountain-like fronds that are leathery in texture. They reach about two feet tall, and the pretty green fronds last well into Winter. Once they are established, little maintenance is required, and they will come back for years to come. Take some inside in pots to brighten up dark, dreary winter days.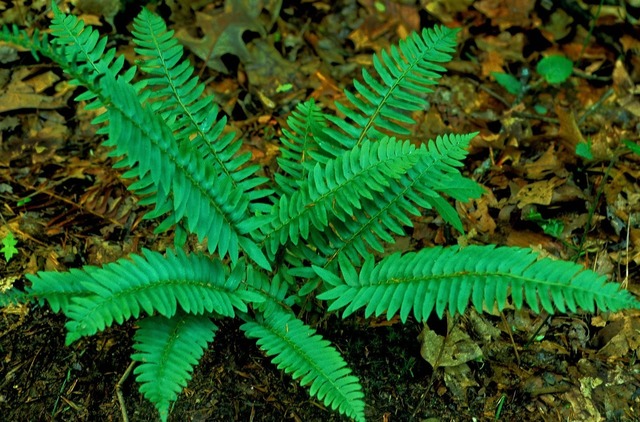 Foam Flowers
A Foam Flower or tiarella cordifolia is a cousin to coralbells and is also a great shade garden favorite perennial. A Foam Flower is sometimes called False Mitrewort because each little floret looks like the pointed cap, called a Mitre, that a Pope wears. You'll find these flowers in huge patches on a forest floor throughout the United States.
The plants create lush, full, green patches low to the ground. The leaves are large, look like maple, and can be variegated. The small, elegant blooms are plentiful when they come out in the Spring and show snowy white and light pink against the green. The plants bloom for four to six weeks, but after the blooms fade, the lush foliage provides a dark green groundcover as a backdrop for other flowers around it.
There are two varieties of Foamflower, Heartleaf and Wherry's Foam Flower. The first type has heart-shaped leaves, sometimes with burgundy patches, and the Wherry's has leaves more like oak or maple leaves. Both are easy to grow. They like moist but well-drained soil that's rich in organic matter. They want full shade but can tolerate some sun.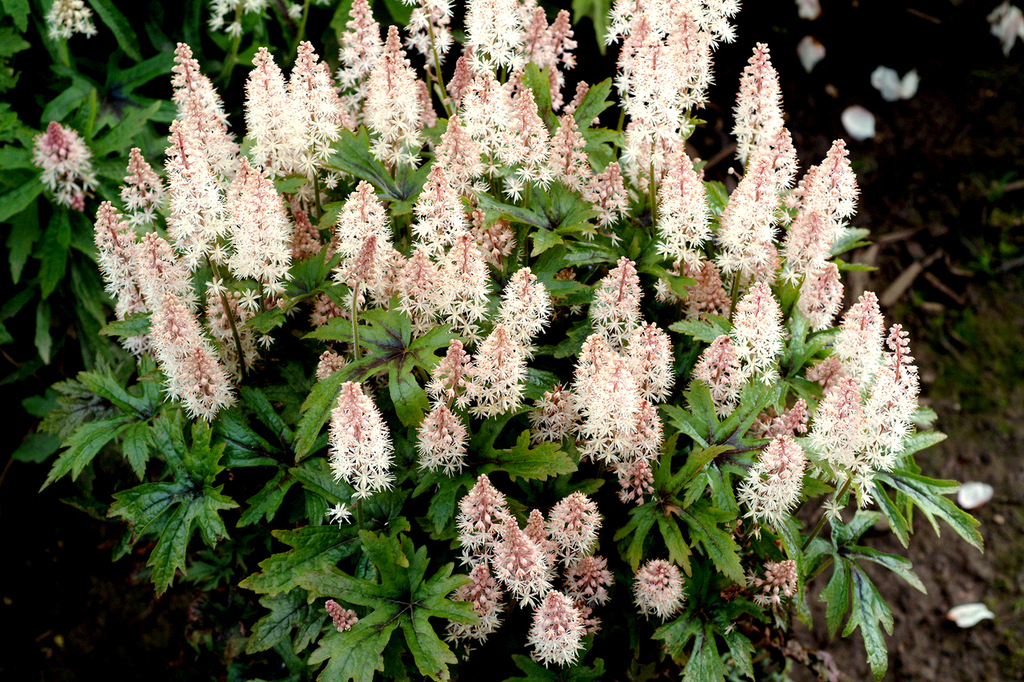 Bloodroots
Bloodroot or sanguinaria Canadensis is a perennial flowering plant native to the eastern United States and Canada. Bloodroot is named because of the dark red (blood-colored) sap found in the stem and roots. The juice of the bloodroot can be used to make orange, red, or pink dyes. It's wise to wear gardening gloves when working with these because they can irritate people's skin. The juice has been used in folk medicine and is researched by scientists for potential medicinal uses.
Bloodroot plants bloom in early Spring, and they like to be under trees or in other shady spots. At first, you get an 8-inch plant stem that might make it to two feet tall by midsummer. Each plant stem sports a 2-inch flower with white petals and yellow stamens. Each impressive blossom has eight to twelve petals. These plants used to be common in wild, wooded areas but have become less so in recent years. Once you have a few plants, you can propagate more by collecting and planting the seeds. Collect the seeds after late Spring by placing a bag over the seedpods and shaking it. Save the seeds and plant them next Spring.