Live Pines, Cypress, and Arborvitaes Trees Add Natural Beauty Indoors
Live evergreen trees make great additions to your Christmas or winter décor. Bringing greenery inside during the dreary winter months is a tradition dating back to the 15th century. Whether you use a live, potted tree for a Christmas tree or add smaller trees throughout your home, the added greenery will add fresh, natural beauty to your home throughout the winter holiday season.
The History of Christmas Trees
Bringing live or cut greenery indoors isn't a new idea. When people stop spending time outside, they like to be reminded that nature's beauty still exists. Pagan celebrations of the winter solstice included bringing greenery inside. During the 15th and 16th centuries, the English brought holly and ivy into their homes in the wintertime. You've probably heard the song "The Holly and the Ivy." Christians continued the tradition, and the holly came to symbolize the crown of thorns Christ wore on the cross and red berries the blood he shed. Scandinavians bring in a vast yule log which they burn on the night of the winter solstice to bring back the light they are losing due to the longer nights. Many other European traditions included bringing greenery inside to decorate for the holidays and cheer everyone during the dark, cold months. During the 16th century, the German Christians were known to have started bringing entire decorated trees inside or building wooden, tree-shaped pyramids to decorate with fresh greenery and candles. Today, many people bring cut evergreen trees and bows into their homes and decorate them, but they also use lighted live trees inside and out.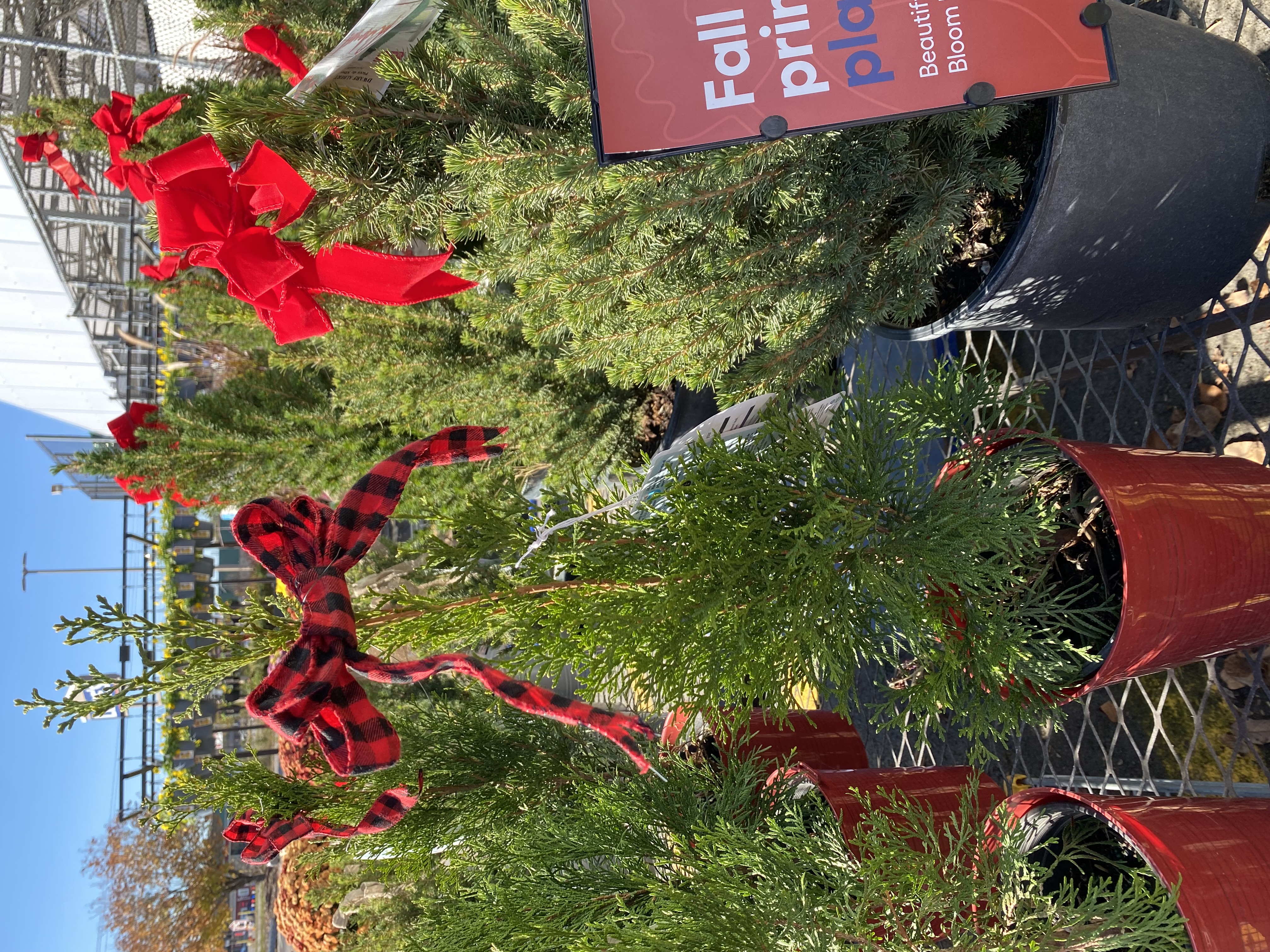 Live Christmas Trees For Sale
There are alternatives to cutting or artificial trees. You love the idea of a real tree but hate the idea of a tree cut down for the purpose. You prefer the smell of a real tree rather than an artificial one but hate going out into the cold to pick out the perfect one. You want the freshness of a real tree brought indoors but dread the cleanup and disposal afterward. Consider a real tree you can replant afterward. There are many species you can choose from locally. Bring home a potted pine, cypress, or arborvitaes tree and decorate it with lights, garland, and ornaments like you would a cut or artificial tree. Just think! You won't have to fit it into a tree stand or worry about getting it and keeping it straight.
Each variety of tree has its unique look. Here are three of the many types of live evergreen trees that make excellent Christmas trees:
Pine Trees are a more traditional Christmas tree, including Virginia, white pine, and loblolly pine. Needles on all three are long and slender. Trees grow between 10 and 200 feet tall, and the growing speed varies between species.
Cypress Trees are sometimes hard to classify. Experts don't all agree on what makes a cypress, but one characteristic is they have single needles all coming from a single twig. The leaves or needles are fragrant, so bring a cypress indoors and enjoy. Cypress trees can live to be 1000 years old.
Arborvitaes have emerald green or gold lacy, flat leaves that are wonderfully aromatic. Depending on the species, they produce green ½" rosebud cones in the early summer that may stay green or turn golden brown over time. Different types grow to reach heights between three and seventy feet high. Shapes can be conical, mounded, or pyramidal, depending on the cultivar. The arborvitaes, other than dwarf varieties, are fast-growing, adding three or four feet every year. They prefer moist but well-drained soil. You can plant them any time of year.
Add Smaller Live Trees
If you have a large artificial tree or a cut real tree in the family room, consider adding a smaller potted tree in the living room. You can add lights and small bows and enjoy the wonderful pine scent during the holidays. Simple white, red, blue, or green lights add warmth and celebration to any room. A series of red bows or garlands and small ornaments can look festive. Decorating a small tree can be great fun for the kids. If you have room in your kitchen, a live tree brings Christmas to the family's main gathering space. Tiny trees can even be great centerpieces. Live trees make great gifts. Give a live decorated tree as a gift when you go visiting this season.
If you like to decorate the outside of your home for the holidays, add a lighted tree outside on the porch or a couple near the front door. Line your front walkway with small decorated live trees that you can add to your garden after the holidays or send home with guests on Christmas day. You may not want pine or cypress trees along your walk all year round, but potted fir trees with white or colored lights give your yard a great look for the holidays, and the trees can be replanted anywhere in the yard afterward.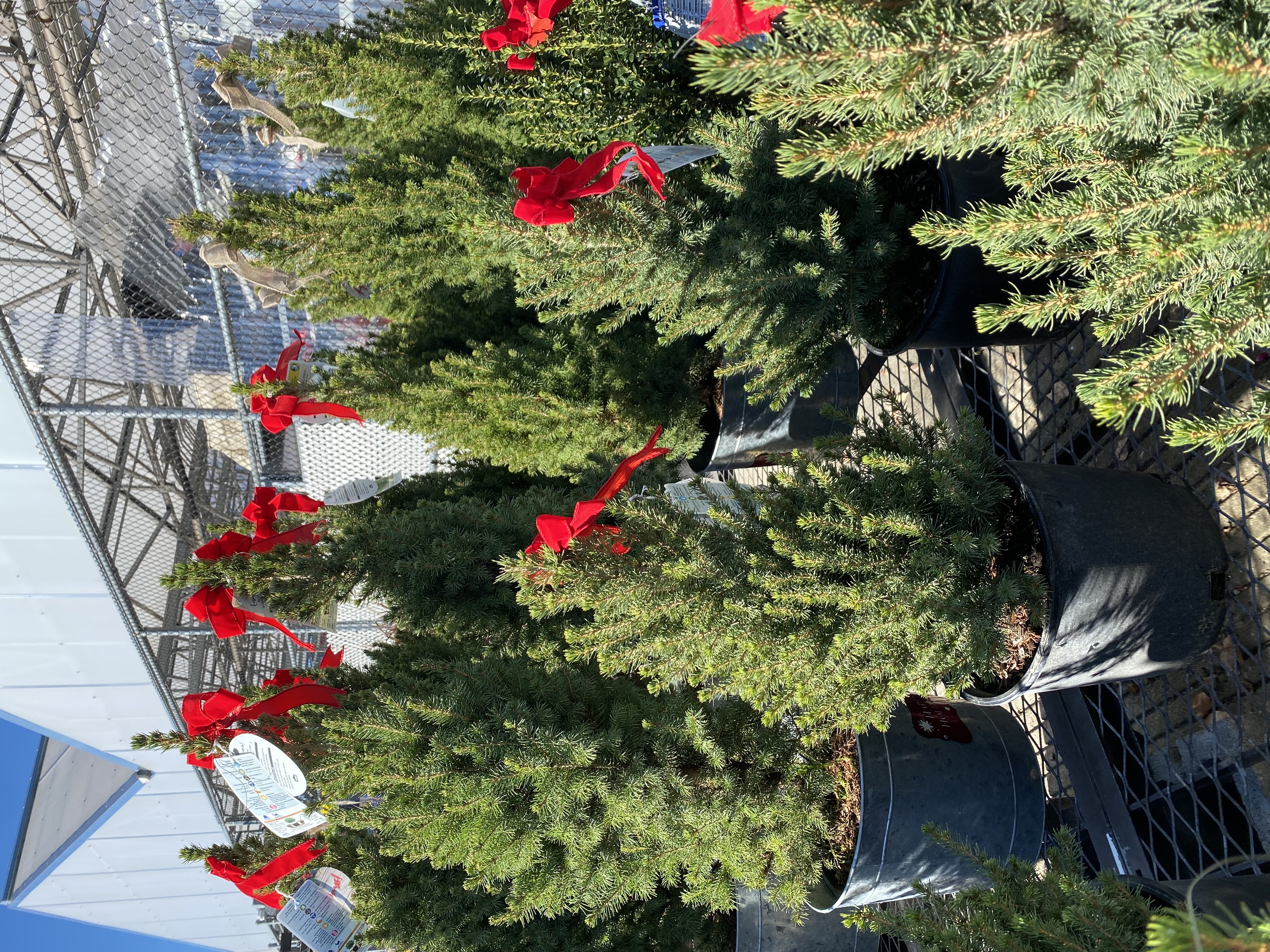 Replanting
If you are considering replanting your tree, there are some things to keep in mind. Choose a smaller, more manageable tree since it will be easier to replant. Make sure the root ball is intact and undamaged. Otherwise, it may not survive replanting. For trees you want to serve as your Christmas tree or indoor décor, buy and bring the trees inside as close to Christmas as possible because they shouldn't be inside for more than two weeks. If you're using decorated live trees outside, they can be bought earlier.
Live trees add natural green décor throughout your yard and home. Whether you use a live tree as your prime Christmas tree for Santa Clause or add lit trees inside or outside the house, you, your family, and visiting guests will enjoy the fresh greenery and fragrant smells now and continue to love the trees as they grow if you replant them in your yard.